APPLICATION
The testing of natural gas requires fast and precise analysis of fixed gases and light hydrocarbons. The composition and calculated properties of natural gas are critical across a range of applications including midstream gas processing from well heads, pipeline quality measurement for appliance and engine research, and gas quality for utilities. Due to the variations in natural gas composition, it is necessary to monitor the physical properties by industry standard calorific calculations as small changes can have financial and development impacts. In addition, the concentration of sulfur and non-sulfur based odorants can be monitored for odorization purposes.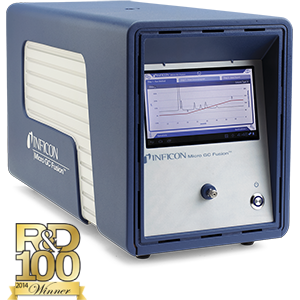 APPLICATION CHALLENGE
Accurate and precise compositional analysis
Calorific calculations and other physical properties according to industry standards
Fast, simple, and transportable analysis
INFICON SOLUTION
INFICON Micro GC Fusion® is capable of analyzing fixed gases, C1-C5 hydrocarbons, C6+ or C6-C9+ carbon number groups in a natural gas stream within minutes. With the combination of Diablo EZ Reporter software, calorific values (BTU) and other industry standard calculations are provided in an easily accessible report. Micro GC Fusion can be transported in the field due to its lightweight and compact design. The instrument can also be used in a laboratory/remote location or interfaced with incoming gas lines.
Datasheet – Analysis of Wellhead Natural Gas up to C9 Plus
Datasheet – Analysis of Pipeline Natural Gas
Application Note – Natural Gas Analysis for Engine and Appliance Manufacturers
Application Note – Odorants in Natural Gas